Why Do The First 2000 Days Matter For Your Child?
Sensitive Periods in Early Brain Development
The first 2000 days of your child's life, including in the womb, are more important in your child's development than any other time. Emotional, social, language, vision, hearing and so much more are at their developmental peak.
An overwhelming amount of research and real life studies have shown more than ever before how crucial the first 5 1/2 years are. The graph below gives a quick snapshot of this pivotal and short time period.
You can quickly see how much brain development occurs in the first 5 years. Language, visual, emotional and so many more spike in the first 2000 days. If you look closely you can see that a few like hearing and vision drop off significantly after year 4.
This is why getting your child into a great daycare that can stimulate all those characteristics is important.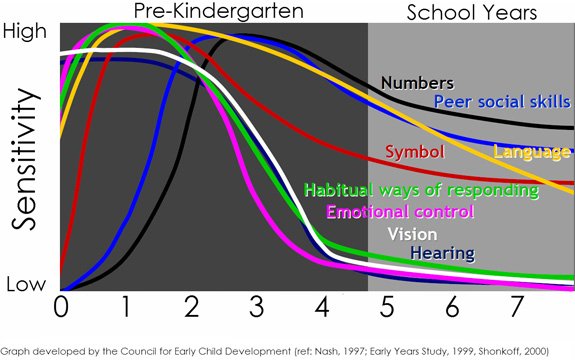 Neuroscientists can now show that the very earliest experiences develop and shape the architecture of the brain. This affects the child's future in a very important way. Their future health, productivity and even life success all hinge on the early years.
This video can get a little in-depth but it's short at 1:56 minutes. There is a lot of information on synapses and neurons. How they interact and grow in a child. It's all about experiences and getting as many different stimuli to your child as you can. That means doing a lot of different activities everyday.
Strong interaction and many, many experiences are on the forefront of what needs to be implemented in the first 2000 days. At2000 Days Daycare we acknowledge this and strive to make sure our curriculum is adaptive, interactive and appropriate for each of our classrooms.
At 2000 Days Daycare we work hard every day to make sure your child is safe, secure, happy and constantly using their brain. We give them as many experiences as possible with reading, math, science, yoga, dance and so much more. Our interactions with your child and how we encourage social and emotional development all hinge on the fact that we have a short time frame to build a very strong foundation. Our curriculum and our one year teacher training make sure that your child gets the very best start in life. You as a parent get the security and peace of mind that your child is loved, safe and their entire development is looked after.
Some great articles and websites about why a child's first 2000 days are very important
Globe and Mail
Why the first 2,000 days of a child's life are the most important
Eye On Early Education
"The First 2000 Days Are Critical"
North Carolina Website
A lot of great information on your child's first 2000 days